Sub-categories:
Spiritual & metaphysical | Psychological | Family sagas | Political | Crime | Medical | Technological | Religious | Legal | Media tie-in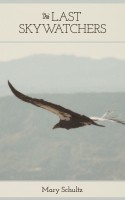 The Last Skywatchers
The known world unravels as the Spanish mission sphere expands across Southern California to the Colorado River from 1769 to 1854. People of one village pit themselves against invading settler-evangelists and their escorting soldiers, and a fierce resistance movement arises. Only the secret knowledge of Skywatchers--astronomer-healers--can ensure the preservation of a people and their culture.