Sub-categories:
Spiritual & metaphysical | Psychological | Family sagas | Political | Crime | Medical | Technological | Religious | Legal | Media tie-in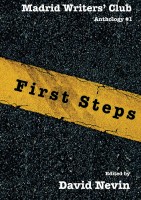 First Steps : Madrid Writers' Club Anthology
Each of the ten stories are written to depict a main character travelling, either in flight or on a journey of self-discovery. This collection takes the reader from Cuba to the Arctic to fantastical worlds, where animals talk and seals reveal their true nature. Airports and airplanes share pages with rowing boats, subways and horse-drawn carriages.