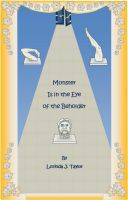 Monster Is in the Eye of the Beholder: Report of the Anthropological Expedition to the Planet Known as Kal-Fa
(4.67 from 6 reviews)
Three anthropologists make first contact with a species of bizarre intelligent lifeforms. Each team member reacts in a different way to their strangeness as the story builds toward a disturbing climax and a conclusion with an unsettling twist of perspective.
The Dog's Philosopher - A Carriage of Justice
Jimmy is a victim of a brutal crime that has left him permanently disabled and devastated. Everyone in the small country town knows who the perpetrators are, but the conspiracy of silence within their gang makes it impossible for the police to lay charges.