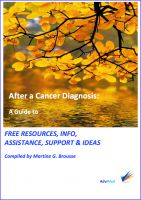 After a Cancer Diagnosis: Free Resources, Info, Assistance, Support & Ideas
Written by a billing manager specializing in oncology, this comprehensive guide is aimed at those in need of insider information, practical tips, and trustworthy advice. It will direct you to specialized resource links, and reveal many more you never knew about. Its goals are for you to lower your costs, find free resources, get educated, locate needed support, apply for assistance and much more.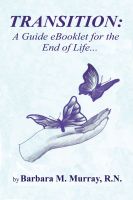 Transition: A Guide Booklet for the End of Life
This ebooklet changes a frightening event into a poignant experience. It is a simple, easy to understand explanation of the shut down process associated with death. The emotional aspects, physical considerations as well as suggestions for children are all included. Used by so many Hospice organizations for years, I promised I would keep it in circulation.