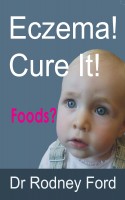 Eczema! Cure It!
by

Rodney Ford
(5.00 from 2 reviews)
Troubled by eczema? Could it be FOODS: * Why have you got it? * What's causing it? * Can you switch it off? * What's driving it? * Is it gluten? milk? or eggs? * How to protect your children? * How to identify your allergies? * What creams and potions? First, get tested. Find the problem. Then, experience healthy skin again! Already 1000s of people have been helped. ISBN 978-0-473-18579-4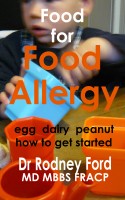 Food for Food Allergy (Egg | Dairy | Peanut): How to get started
by

Rodney Ford
Written for our food-allergy clinic families. Has your child just been diagnosed with food allergy? Get practical useful food/feeding help: What foods to avoid? What foods are safe? How to cope with your fussy feeder? Breast feed or special formula? Want easy-to-make allergen-free recipes? Need to create a fully nutritious diet that avoids: egg, milk, or peanut? "Foods for the food allergic child"
Related Categories