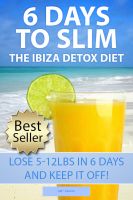 6 Days To Slim! The Ibiza Detox Diet
Lose 5-12lbs in 6 Days and Keep it Off! The Alkalizing Raw Fruit and Vegetable Juice Detox and Diet Plan That Has Already Helped Hundreds of People Shed Pounds, Look Good and Feel Great!
Beauty Without The Beast-Secrets To Ageless Beauty Book
(5.00 from 1 review)
Beauty Without The Beast, is a no fuss book packed with real beauty gems. Forget the surgeon and sheath the scalpel. Get the wow, I thought you were her younger sister, jaw dropping, model skin, trim tummy, tight tuchis Halle Berry sexy skin, in less time than it takes to say 'bin the Botox'. we haven't forgotten the guy's. From smooth shaves to clever last minute moisturisers.