Sub-categories:
All sub-categories >>
Canada | USA | << Top sub-categories
Adventures of an Idaho Mountain Pilot
Back country pilot Harold Dougal shares true tales gleaned from decades flying in a region known for rough terrain, dangerous weather, interesting residents, and a few airstrips that can only be successfully approached one way. Illustrated with photos and line drawings.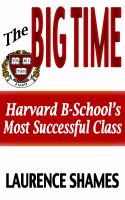 The Big Time: Harvard B-School's Most Successful Class
The Big Time: The Harvard Business School's Most Successful Class & How It Shaped America—Shames' debut book, examining the fabled "class the dollars fell on," was named one of Newsweek's 10 Best in 1986, and remains a seminal study of American privilege and power. Starting with elite schools and corporate boardrooms, the volume offers a compelling social history of a confident nation in the 80s.