Sub-categories:
All sub-categories >>
Canada | USA | << Top sub-categories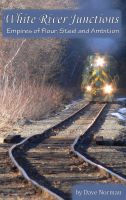 White River Junctions
by

Dave Norman
This fascinating look at White River Junction relates the history of this Vermont river town to the country at large. Norman puts faces, names, and anecdotes to the forces that shaped the American Century. The opening chapters tell the town's story through histories of the railroad and several buildings. The final chapters introduce residents whose lives show a town--and country--in transition.