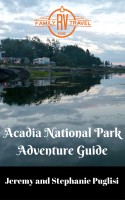 Acadia National Park Adventure Guide
by

Stephanie Puglisi

&

Jeremy Puglisi
This Adventure Guide will help you plan the perfect RV trip to Acadia National Park with your family. The co-hosts and writers from RV Family Travel Atlas will tell you about the best campgrounds, restaurants, hikes, and family activities. With tons of off the beaten track recommendations, this book will help you experience the magic of Acadia...without the crowds.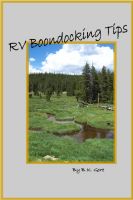 RV Boondocking Tips
by

BK Gore
(4.67 from 3 reviews)
This is a collection of all the tips I've seen, used and heard of in twenty plus years of running the rubber off of various RV's... at least all the ones I could remember. I tried to arrange 'em in a way I thought you' find usable, but then, An RVin' Cowboy Biker may juuust think a mite different than you at times! 12 chapters of tips with sections on, water, electrical,driving, pets & more.