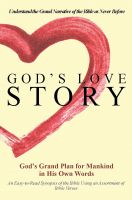 God's Love Story
Have you always wanted to read the Bible, but never made it through? God's Love Story helps the reader grasp the story and purpose of God's plan for mankind. The book contains selected and compiled portions of the Bible, placed in chronological order, as a means of giving a readable and easy to understand synopsis of the Bible. Transitional statements aid in flow and understanding.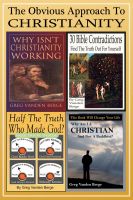 The Obvious Approach To Christianity
Another value packed bargain book package from someone who understands a good deal. "The Obvious Approach to Christianity" provides you with three books for the price of one and the fourth one's free. If you're looking for more information about each individual book, feel free to visit the author's website or type the title into your favorite search engine.