El Espectador Digital
(5.00 from 5 reviews)
La actualidad tecnológica es un tema que se centra en exceso en el aquí y el ahora. Las noticias sobre Google, Apple, Microsoft y compañía surgen a borbotones varias veces al día. El Espectador Digital pone freno a este torrente informativo para poner cada noticia en su sitio. Un marco imprescindible que ayuda a comprender qué está pasando en el mundo tecnológico desde una perspectiva de negocio.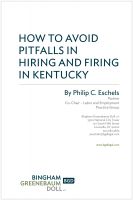 How to Avoid Legal Pitfalls in Hiring and Firing in Kentucky
Philip C. Eschels, Partner at Bingham Greenebaum Doll LLP, presents his seventh edition of "How to Avoid Pitfalls in Hiring and Firing in Kentucky." Hiring and firing employees generally involve risk of litigation, even under the best of circumstances. Managers and supervisors who are better informed of the risks can, however, minimize the risk of litigation and the potential liability.