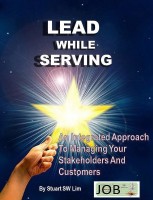 Lead While Serving: An Integrated Approach to Managing Your Stakeholders and Customers
This e- book is designed to provide a workable approach to secure first mover advantages when trying to maintain control while serving demanding stakeholders and customers. The integrated approach proposed will give you a comprehensive roadmap of processes and programs, to address the stakeholder and customer management concerns.It offers a systemic way to make your harried service career tenable.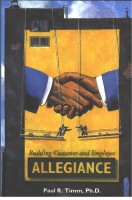 Building Customer and Employee Allegiance
Translate your company's customer service intentions into winning actions that: • Solidify long-term repeat business, loyalty, and profitability • Recover lost customers and valued employees • Exceed your customers' expectations in value, information, personality, and convenience • Generate a constant stream of ideas to ensure competitve advantage.