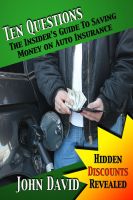 Ten Questions - The Insider's Guide to Saving Money on Auto Insurance: Hidden Discounts Revealed
How is your car insurance rate determined? Knowledge is money in your pocket, because the more you know about how the rating process works, the less you will pay. "Ten Questions" is not a book for "dummies," but it is an easy to use, engaging, and informative guide, specifically designed to help save you money. Learn the answers today, and get a better policy for less money, tomorrow.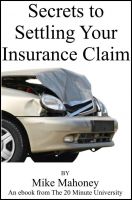 Secrets to Settling Your Insurance Claim
"Secrets to Settling Your Insurance Claim" lays out a blueprint for dealing with insurance adjusters. When your car has been damaged or you have been injured, this book takes you step by step to a fair settlement and eliminates the confusion and intimidation many people suffer in this situation. The book avoids jargon and legalese to guide people to the insurance settlement they deserve.