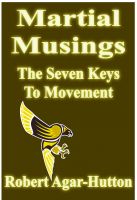 Martial Musings - The Seven Keys To Movement
The most important thing in ANY martial art is movement - if you stay still you are a 'sitting target' - sitting targets tend to get hit, and that's BAD!!! This short eBook introduces you to the Seven Keys - these topics are suitable for martial artists of any level.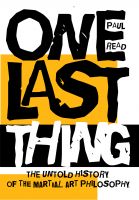 One Last Thing: The Untold History Of The Martial Arts Philosophy
What if, in a dialog between the past and the present, between the real and the fictitious, innovative writers and fighters such as Bruce Lee, Alan Watts, Marshall McLuhan, Kwai Chang Caine, Carl Young, and Lao Tzu were brought back to life and transported to the present so they might raise an index finger, lean forward and whisper knowingly, "Oh, before I forget, One Last Thing!"