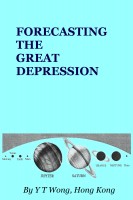 Forecasting the Great Depression
The root cause of the Great Depression is long term pessimistic mass behavior. What causes the mass behavior? The economy has been resilient with stocks rising to a peak in early Sep 1929. Then all of a sudden stocks collapse. How can we foresee the abrupt changes? How do we pin-point the exact timing of the changes? These questions are fully answered in this book.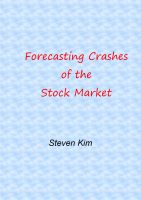 Forecasting Crashes of the Stock Market
The stock market can crash whether or not a bubble exists. A showcase was the smackdown of 2011 which cropped up in tune with the long-range pattern of flops but otherwise without any good reason. On a positive note, the sequence of bombshells appeared to be on track, thus setting the stage for the next blowup sometime around 2017 in tune with the ongoing cascade of flaps.