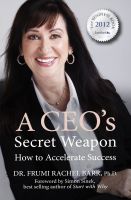 A CEO's Secret Weapon
Prevent the grinding sands of conflict from seizing the gears of business decision-making. A CEO's Secret Weapon offers 10 results-oriented chapters packed with essential techniques every CEO needs to know. The book begins with the real cause, purpose and reason the enterprise exists. Then it dives into the most troublesome issues confronting the CEO everyday and how to conquer each.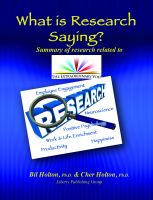 What is Research Saying? Summary of research related to The Extraordinary You
Great leaders know how to bring out that "Extraordinary You!" within each employee -- and now there is scientific research to show you how to do it. This incredible book captures, in summary form, the latest and most compelling research from the fields of Positive Psychology, Neuroscience, the Psychology of Optimism, Happiness, Work-Life Enrichment, and Employee Engagement.