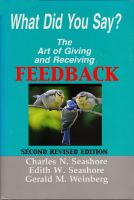 What Did You Say? The Art of Giving and Receiving Feedback
This brief and engaging book can be of use to anyone who has to interact with other people. How to offer feedback when asked or hired to do so. Why feedback tells more about the giver than the receiver. How feedback is distorted or resisted by the receiver's point of view and defense mechanisms. And in dozens of enjoyable vignettes, how humans have struggled to understand each others' responses.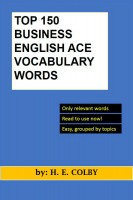 Top 150 Business English Ace Vocabulary Words
Colleagues and clients judge you by the words you use. Don't lose a business deal by misusing any of these top 150 vocabulary words for Business English. Arranged in 15 broad topics, learn 10 words relevant to each topic with example sentences and exercises to test your knowledge. Prepare yourself to use these powerful terms quickly and easily while speaking and writing English.