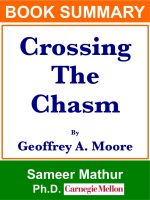 Book Summary: Crossing The Chasm by Geoffrey A. Moore
This book presents the Technology Adoption Life Cycle - the familiar bell shaped curve. This has been the marketing model of choice for the high tech industry. The cycle begins with innovators and moves to early adopters, early majority, late majority, and laggards. There is a vast "chasm" between the early adopters and the early majority and navigating it is vital for technology firms to succeed.
Apple and Samsung: A Love Story
Apple is a special company. There is no doubt about that. There is much about it that has taken it to incredible heights. The cash hoard, the Apple Stores, the marketing cachet. It all makes for an incredibly dangerous competitor. But every company has a yin to its yang, and for Apple that is Samsung Electronics. In here, we look at this company's fierce push into the smartphone industry.