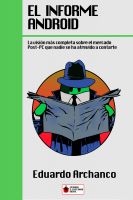 El Informe Android
El Informe Android es el análisis más completo y exhaustivo del mercado de tablets, smartphones y PC del momento. En sus páginas se describe el negocio que hay detrás de los dispositivos Post-PC y las compañías y ecosistemas que más se están beneficiando en esta nueva era de la informática: Apple y Google. Un estudio excelente para comprender el cambio de Era en el que estamos.
Apple and Samsung: A Love Story
Apple is a special company. There is no doubt about that. There is much about it that has taken it to incredible heights. The cash hoard, the Apple Stores, the marketing cachet. It all makes for an incredibly dangerous competitor. But every company has a yin to its yang, and for Apple that is Samsung Electronics. In here, we look at this company's fierce push into the smartphone industry.