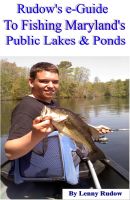 Rudow's e-Guide to Fishing Maryland's Public Lakes & Ponds
The latest how-to, where-to e-guide from Lenny Rudow covers Maryland's freshwater fishing possibilities. Reservoirs like Piney Run, lakes such as Deep Creek, specific eastern shore ponds, and tactics and techniques for bass, crappie, and other freshwater fish are covered in detail.Whether you're a bank angler, a reservoir runner, or a pond hopper, you'll find this one interesting.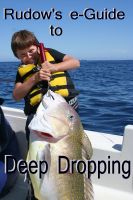 Rudow's e-Guide to Deep Dropping
This book is a collection of how-to/where-to fishing articles by noted fisherman/outdoors writer Lenny Rudow, about deep dropping. It covers species including golden tilefish, blueline tilefish, grouper and wreckfish, sea bass,and more. Detailed information on tackle, tactics, and locations for deep dropping off the Mid-Atlantic coast are thoroughly covered.