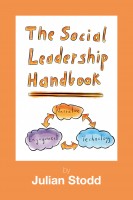 The Social Leadership Handbook
by

Julian Stodd
Social Leadership encapsulates the mindset, skills and behaviours required to be an effective leader in the Social Age. This book is a guide for organisations looking to develop Social Leadership capability and for individuals looking to become Social Leaders. It's a model of leadership that is more fluid and relevant than ones based on longevity, situation or hierarchy.
Actualizing Evolutionary Co-Leadership – To Evolve a Creative and Responsible Society
by

Alain Gauthier
Why and how can evolutionary co-leadership accelerate the development of a creative and responsible society? After exploring the evolutionary worldview, the book invites the reader to discover the inner conditions for entering into a true partnering dance with others – for the common good. It then offers a wide array of proven practices to develop co-leadership and points to emerging initiatives.
Related Categories