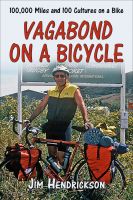 Vagabond on a Bicycle
(5.00 from 1 review)
Vagabond on a Bicycle comprises 16 articles describing my bicycle trips in/on Route 66, the Santa Fe Trail, the Natchez Trace, the Deep South of the United States, New England, Montana to Alaska, Maritime Canada, Washington state to Israel, Northern Europe, Eastern Hungary, South Africa, New Zealand, Tonga, the Cook Islands, and Central Chile.
Shalom, Israel!
(3.00 from 1 review)
Shalom, Israel! is a narrative of my 5½-month bicycle journey from Bellingham, Washington state to Israel aboard a custom-made, long-wheeled-based recumbent. In this book you'll learn about the many adventures and misadventures I experienced on this 7,000-mile trip through eleven U.S. states and eight countries. I've also included a list of equipment that I took on the journey.