One
Misty Gonzalez and Adriana Olivares-Grady of Hortus Environmental Design Synergy are pleased to announce the release of the anticipated graphic e-book "One", a simple, refreshing and charming short story inspired by authors such as Shell Silverstein and Norton Juster. Our goal for this book is simple: we want it to be accessible for as many people as possible.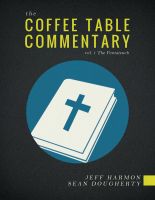 The Coffee Table Commentary: Volume 1 - The Pentateuch
(4.00 from 1 review)
Geared toward visual learners, this short commentary combines graphic art with Bible information. Volume one features the first five books of the Bible, also known as the Pentateuch.