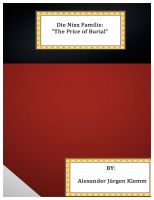 Die Nixx Familie: The Price of Burial
This is a one act play, the first of a new series, called "Die Nixx Familie". The setting is in a post WWII Germany following the lives of the Nixx Family. Written in English. Genre= Dramatic Script, Sardonic, One Act Play, Humorous, Short Read. In "the Price of Burial", the family must deal with the death of an in-law and handle the burial. If you liked it, please leave a friendly review.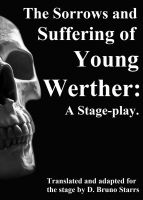 The Sorrows and Suffering of Young Werther: A Stage-play
This two act stage-play is an English translation and stage adaptation of Johann Wolfgang von Goethe's 1774 novella "Die Leiden des jungen Werthers". It was first published in the April 2004 issue of "Ygdrasil: A Journal of the Poetic Arts" (online, Ottawa, Canada. K. Gerken [ed]). There are no fees to perform this play so long as all actors have a legally obtained copy.