The Simple Survival Smart Book
The perfect quick reference for survival situations. When you are stuck in a bad situation this is the reference you want to have in your rucksack.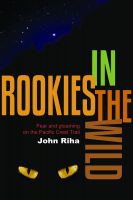 Rookies in the Wild
(5.00 from 1 review)
A journey into the wilderness will reconstitute a lost soul. At least that's the theory. But when a newly unemployed dad decides to take his teenage son on a life-affirming backpacking trip along the Pacific Crest Trail, he unleashes deep-rooted fears of the unknown. Cougars, Bigfoot, and iliotibial syndrome are con-conspirators in this true comic misadventure set in the Trinity Alps Wilderness.