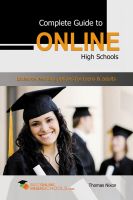 Complete Guide to Online High Schools: Distance learning options for teens & adults
(5.00 from 1 review)
You no longer have to sit in a traditional classroom for a specific period of time in a specific location. In this second edition of "Complete Guide to Online High Schools," Thomas Nixon has expanded the offerings by showcasing almost triple the number of online high schools. Just as his BestOnlineHighSchools.com website has grown over the years, so, too has the size of this book.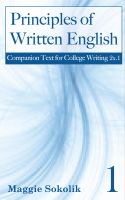 Principles of Written English, Workbook 1
(5.00 from 1 review)
This workbook accompanies the online course, College Writing 2.1x, Principles of Written English, the first of a series of three courses offered by College Writing Programs of the University of California, Berkeley through edX.org. This workbook offers additional ways to practice writing, editing, and reviewing the materials for the online course.