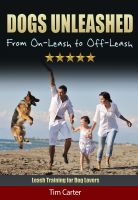 Dogs Unleashed: From On-Leash to Off-Leash - Leash Training for Dog Lovers!
by

Tim Carter
"Never crossed my mind to read about leash training but chuffed I did!": Dogs Unleashed. Start to enjoy dog walking again. Get your dog to heel when needed. Unleash your dog safely. Walk off-leash much more. Recall your dog reliably from the most tempting distractions. Forget the 1960ies dog training techniques others still teach you. Join the forefront of dog training insight. Now.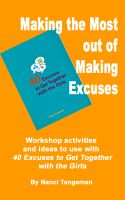 Making the Most out of Making Excuses
by

Nanci Tangeman
Make the most out of your copy of 40 Excuses to Get Together with the Girls. This eBook includes activities and ideas to use as you and your girlfriends try new things, rediscover old passions and get to know each other better. Written by the author of 40 Excuses, this guide is a must-have companion guide, if you're leading your own 40 Excuses group.
Related Categories