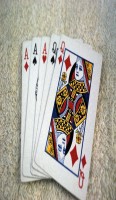 Advertencias antes de jugar póker
by

Félix Gerónimo, Sr
Este pequeño manual contiene una serie de consejos y recomendaciones que es necesario conocer antes de meterse en el maravilloso mundo del juego de póker. Se recomienda su lectura porque es objetiva, rápida y amena.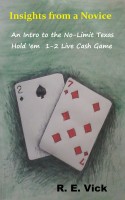 Insights from a Novice
by

R. E. Vick
Having thoughts about making your first trip ever to a live cash game of Texas Hold'em at your favorite casino? This short book will prepare you to make that journey with more confidence and knowledge as it details the terminologies, techniques, and procedures that will greet you at the table. It takes you through a hypothetical hand of 1-2 No-Limit Texas Hold'em with personal insights.