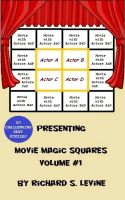 Movie Magic Squares: Volume 1
by

Richard S. Levine
Richard S. Levine has been making games for over 30 years. Movie Magic Squares: Volume 1 contains 55 challenging movie-related text puzzles. Actors in each row/column/diagonal acted (or voiced or had an uncredited appearance) in the corresponding movies together. Actor hints are provided, and you don't need to know every movie. Answers give links to online movie databases (some movies rated R).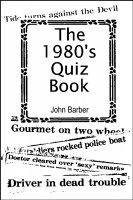 The 1980's Quiz Book
by

John Barber
This quiz book focuses on news from the 1980's with 20 different categories and over 340 questions in multi-answer format. It is unusual in that it contains news stories that did not make the headlines. These are weird, wonderful and odd stories and all true; useful for quiz masters needing new and unique material and those who enjoy reading about the slightly bizarre side of real life.
Related Categories