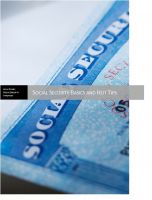 Social Security Basics and Hot Tips
The Social Security disability process can be long and frustrating. Learn useful and helpful Social Security "tips" to help you win your Social Security disability case.
EVERYTHING YOU WANTED TO KNOW ABOUT SOCIAL SECURITY DISABILITY LAW
Applying for Social Security Disability (SSDI) can be overwhelming, confusing, and discouraging. Lawyers will find that representing a SSDI or Supplemental Security Insurance claimant is a very different experience. This eBook, by one of Top Lawyers in Washington DC for 2013, draws on years of experience representing claimants at all levels, is an excellent starting point and reference guide.