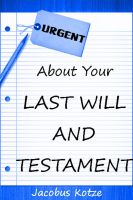 About Your Last Will and Testament!
by

Jacobus Kotze
This short article is about the pitfalls in allowing your worst enemy (banksters) to draft your "last will and testament" on your behalf for they will enter clauses which will cost your widow needless money afterwards. Based on 22 years of legal practise and law enforcement experience the contents are not fiction and deals with a recent case.
Estate Planning For The Single Daddy
by

Nick Thomas
In Estate Planning For The Single Daddy, Nick Thomas has written a book specifically for single fathers who are looking to get a better understanding of estate planning. In this book, he has seek the advice of financial planners and successful single fathers. From this book, you would have a clearer understanding of the estate planning needs of a single dads.