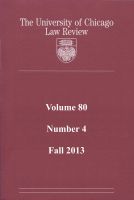 University of Chicago Law Review: Volume 80, Number 4 - Fall 2013
Contents of UCLR Vol. 80, No. 4, include: Articles: Bankruptcy Law as a Liquidity Provider, by Kenneth Ayotte & David A. Skeel Jr.; Impeaching Precedent, by Charles L. Barzun; Copyright in Teams, by Anthony Casey & Andres Sawicki; Inside or Outside the System?, by Eric A. Posner & Adrian Vermeule; and six extensive student Comments, as well as a review essay on the "law of war" by Paul Finkelman.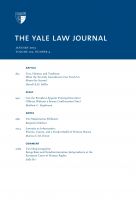 Yale Law Journal: Volume 122, Number 4 - January 2013
The Yale Law Journal (Jan. '13) features articles on law by leading scholars. Contents: "Text, History, and Tradition: What the Seventh Amendment Can Teach Us About the Second," by Darrell A.H. Miller; and "Can the President Appoint Principal Executive Officers Without a Senate Confirmation Vote?," by Matthew Stephenson. Also includes student work on burqa bans, filibusters, and prison lawsuits.