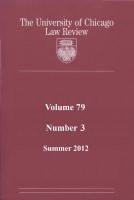 University of Chicago Law Review: Volume 79, Number 3 - Summer 2012
Contents for the Summer 2012 issue include: "Orwell's Armchair," by Derek E. Bambauer; "Jury Nullification in Modified Comparative Negligence Regimes," by Eli K. Best & John J. Donohue III; and "Allocating Pollution," by Arden Rowell; plus several student Comments, including topics of tax discrimination, immigration, mergers, and children's residence.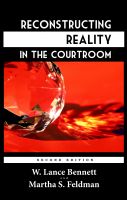 Reconstructing Reality in the Courtroom: Justice and Judgment in American Culture
Coauthored by Martha S. Feldman, 'Reconstructing Reality in the Courtroom' is a classic study of the kind of questioning and argument that sways jurors, and a method of narrative and storytelling that frames credible factfinding. First published in 1981 and used frequently by scholars, students, lawyers and jury consultants, it is now presented in the 2014 edition with extensive new introductions.