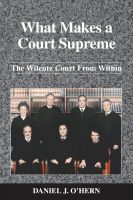 What Makes A Court Supreme
Former Justice of the New Jersey Supreme Court Daniel J. O'Hern writes about his time on the Court when it was considered the Greatest Court in the Country, as it dealt with monumental cases like Baby M. It is an insightful book about an historic Court with a rarely provided insider's view, while also being a witty and funny read. Justice O'Hern served on the Court from 1981-2000.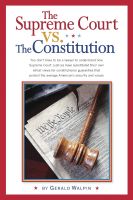 The Supreme Court vs. The Constitution
Gerald Walpin, a former federal Inspector General nominated by President George W. Bush and confirmed by the U.S. Senate, and, many years before, as a top prosecutor for the Department Of Justice in New York, dramatically sets out the deliberate push by a bare majority of Supreme Court justices to usurp the role of our country's elected lawmakers and executives.