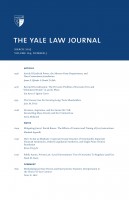 Yale Law Journal: Volume 124, Number 5 - March 2015
by

Yale Law Journal
Contents of March 2015 (Vol 124, No 5) include "Article III Judicial Power, the Adverse-Party Requirement, and Non-Contentious Jurisdiction" by James E. Pfander & Daniel D. Birk; "Beyond Diversification: The Pervasive Problem of Excessive Fees and 'Dominated Funds' in 401(k) Plans" by Ian Ayres & Quinn Curtis; "The Uneasy Case for Favoring Long-Term Shareholders" by Jesse M. Fried; and much more.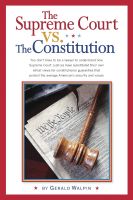 The Supreme Court vs. The Constitution
by

Gerald Walpin
Gerald Walpin, a former federal Inspector General nominated by President George W. Bush and confirmed by the U.S. Senate, and, many years before, as a top prosecutor for the Department Of Justice in New York, dramatically sets out the deliberate push by a bare majority of Supreme Court justices to usurp the role of our country's elected lawmakers and executives.