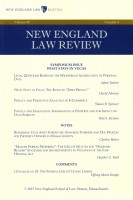 New England Law Review: Volume 49, Number 4 - Summer 2015
by

New England Law Review
Features a Symposium entitled "What Stays in Vegas," by leading scholars on the subject of privacy and big data. Contents include: "Legal Questions Raised by the Widespread Aggregation of Personal Data," by Adam Tanner; "What Stays in Vegas: The Road to 'Zero Privacy,'" by David Abrams; "Privacy and Predictive Analytics in E-Commerce," by Shaun Spencer; & "Privacy & Innovation," by Rita S. Heimes.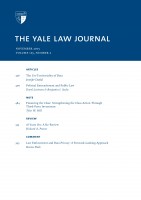 Yale Law Journal: Volume 125, Number 2 - November 2015
by

Yale Law Journal
Contents of Nov. 2015 issue: Articles: "The Un-Territoriality of Data," by Jennifer Daskal; "Political Entrenchment and Public Law," by Daryl Levinson & Benjamin Sachs; Review: "18 Years On: A Re-Review," by Richard A. Posner; Note: "Financing the Class: Strengthening the Class Action Through Third-Party Investment," by Tyler Hill; and a Comment on law enforcement and data privacy by Reema Shah.