TRUCKING IN THE USA - Freight Broker Edition
This book is designed to meet the distinct needs of a transportation broker both now and in the future or for the needs of an individual who want to start their own freight brokerage, or for the one that wants to understand transportation brokers and broker regulations. Written and compiled by a retired Special Agent of the Interstate Commerce Commission (ICC).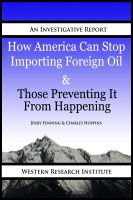 How America Can Stop Importing Foreign Oil & Those Preventing It From Happening
America has an oversupply of cheap clean natural gas. This country needs to wake up to the fact of these new-found riches. This report tells how switching to natural gas can put millions of people to work, put extra dollars in every motorist's pocket and leave hundreds of billions of dollars in circulation in America instead of being sent overseas.