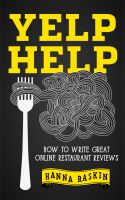 Yelp Help: How to Write Great Online Restaurant Reviews
Yelp Help, written by professional food critic Hanna Raskin (Seattle Weekly, Dallas Observer), is the first how-to book for online restaurant reviewers. This lively introduction to the art of food criticism is a comprehensive guide to reporting, conceptualizing and writing clear, fair and engaging short-form restaurant reviews that fellow eaters will appreciate and chefs will admire.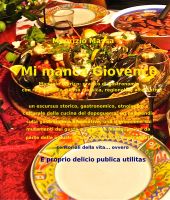 Mi manca Giovenco - Manuale teorico-pratico di gastronomia con ricette
Questo libro è un escursus storico-culturale sulla gastronomia del dopoguerra, un compendio sulla cucina alternativa, una digressione sui mutamenti dei gusti e sulle sue manipolazioni da parte delle industrie, una divagazione sugli aspetti sensoriali della vita, una carrellata sulla cucina di strada siciliana. Con ricette.