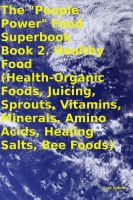 The "People Power" Food Superbook Book 2. Healthy Food (Health-Organic Foods, Juicing, Sprouts, Vitamins, Minerals, Amino Acids, Healing Salts, Bee Foods)
Eating healthy is quite simple. Think of the sun as the energy of life. Whatever it creates is good for you; vegetables, nuts, seeds, grains, animals that are raised outside in the fresh air and the sunshine and fish who eat the plankton the sun's rays help grow. The sun creates chlorophyll in plants which is a vital source of life. Chlorophyll is the green substance in fruits and vegetables.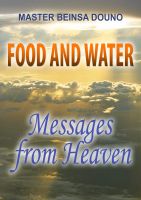 Food and Water – Messages from Heaven
Modern people say that man should feed with varied food to live. It is true that man should eat, but what to eat? If it concerns the bee, it feeds with honey. The wolf feeds with meat, the sheep – with grass. What with feeds man? Nature has strictly defined who with what should feed himself. To man it has defined to feed with fresh pure food, which is difficult to decompose.