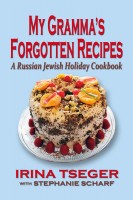 My Gramma's Forgottten Recipes — A Russian Jewish Holiday Cookbook
by

Irina Tseger
These kitchen-tested recipes highlight cooking traditions from the six holidays that are most commonly observed by Jews in the 21st century. For America and Russia these are: Rosh Hashanah, Yom Kippur, Succot, Chanukah, Passover and Shabbat. Photographs are used liberally to illustrate the various phases of complicated dishes.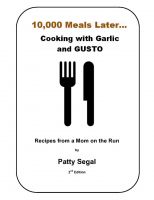 10,000 Meals Later, Cooking with Garlic and Gusto
by

Patty Segal
This book is intended to be a survival cook book of sorts. It is a combination of what I would hope to be "helpful ideas'" recipes, tips, and anecdotes for those men and women who feel somewhat committed to their kitchens, daily and nightly. Most of the recipes (other than cake and cookies) allow for substitution of ingredients or a variation in ingredients.