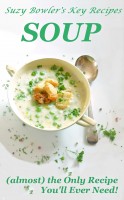 SOUP (almost) the Only Recipe You'll Ever Need
This cookbook is a little different, it is part of a cunning plan! Fifty delicious soups based on one easy key recipe together instructions for stock making, adding herbs, spices, etc. plus additional recipes for all sorts of garnishes and accoutrements. The idea is that by using the key recipe and the helpful suggestions in the book you will soon be serving your own spectacular creations.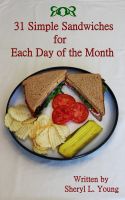 31 Simple Sandwiches for Each Day of the Month
If you are looking for simple sandwich recipes, sandwiches for different occasions, or you are just brown bagging it to save money, 31 Simple Sandwiches gives you a variety of sandwiches to break the monotony of serving the same sandwiches day after day. Each sandwich recipe is a single serving which makes these sandwiches perfect for different taste buds, people on the go, or for a single person.