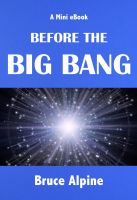 Before The Big Bang
The biggest question ever asked by science is: Where did everything come from? Science has answered this big question for nearly one hundred years. Everything was created after the big bang. If the Big Bang created the Universe and everything. What was it that created the Big Bang originally? What is it that went, Bang?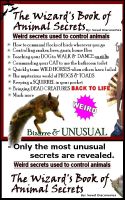 Wizard's Book of Animal Secrets
Just Imagine! Command and rule over the animal kingdom: horses, bats, rats, insects, snakes, dogs, cats, toads, frogs, birds and more. Only the most unusual is offered. Much more than a simple training manual, this is a collection of rare, bizarre effects that will amaze and astound everyone. Be a Wizard - Rule the Animal Kingdom Strange & unusual information found nowhere else!