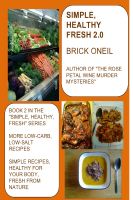 Simple, Healthy, Fresh 2.0
"Simple, Healthy, Fresh 2.0" has 70+ recipes, from appetizers/breakfasts/snacks to Vegetables, you'll see new and interesting ways to prepare foods, such as a simple meal of Fennel Frond Pesto to a more complex stuffed pork chops on onion-tomato sauce. More of those low-carb, low-salt recipes you've come to know and love from the first cookbook.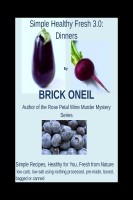 Simple Healthy Fresh 3.0: Dinners
The Simple Healthy Fresh series is low-carb, low-salt using-nothing processed, pre-made, boxed, bagged or canned. This cookbook has 68 dinners with 115 recipes, and1-4 recipes included per Dinner. Recipes include fresh vegetables, lean meats and omega-3 fats. Simple Recipes, Healthy for You, Fresh from Nature.