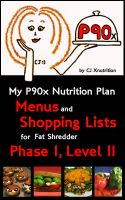 My P90x Nutrition Plan: Menus and Shopping Lists for Fat Shredder, Phase 1, Level II
(5.00 from 13 reviews)
P90x, Beachbody's extreme fitness program, is hard enough without worrying about planning your meals using the P90x nutrition guide! This handy meal plan with shopping lists for Phase 1, Level II removes the guesswork. Provides variety and comfort foods, uses common ingredients and leftovers, and is designed for lunches at work. Also includes cost saving tips for accomplishing P90x on a budget!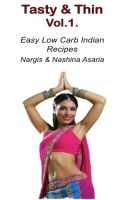 Tasty & Thin Volume 1: Low Carb Indian Food based on 4Hour Body
(5.00 from 1 review)
A low carb Indian recipe book for everyone - based on 4 Hour Body. If you're looking to lose weight or improve your health, this is the recipe book for you. Full of tasty flavorful recipes that are easy to make and will help you stick to your diet. The mother daughter team who wrote it have lost weight, lowered blood pressure and keep at it because the food is so flavorful and easy to prepare.