Build Your Own Tablet
A guide to building your own tablet capable of running Windows® 8 or any other x86 compatible operating system complete with pictures, parts list and instructions.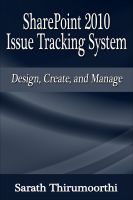 SharePoint 2010 Issue Tracking System Design, Create, and Manage
(4.00 from 1 review)
2nd Edition This book explains the steps required in creating an issue tracking system using SharePoint Server Enterprise 2010. The concept is the same for other SharePoint 2010 editions. The book illustrates the issue tracking process with step-by-step instructions and examples and enables the user to use SharePoint successfully to create and manage an issue tracking system.