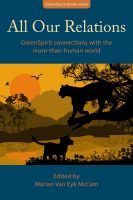 All Our Relations: GreenSpirit Connections With the More-Than-Human World
A book that celebrates and honours our relationships with all those other life forms who share our Earth. How we treat these 'fellow-travellers,' how we perceive them and interact with them—and the extent to which we love and respect them—is a measure of our humanity and our spiritual evolution. The greater our appreciation for them, the more they teach us and the more joy they bring to our lives.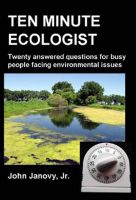 Ten Minute Ecologist: Twenty Answered Questions for Busy People Facing Environmental Issues
TME provides plain, easily understood, information about environmental phenomena and issues in the form of twenty answered questions. It will do wonders for anyone who reads about environmental issues in the daily newspapers and asks "should I be worried about this?" TME is ideal reading for CEOs and politicians facing environmental issues, as well as science students at all levels.