Biology Practice Questions: Cells
by

Dr. Evelyn J Biluk
This is a collection of multiple choice questions on cells. Topics covered include parts of the cell, plasma membrane, transport processes, cytoplasm, nucleus, cell division (mitosis and meiosis), cellular diversity and the control of cells. These questions are suitable for students enrolled in Intro to Cell Biology, General Biology or Principles of Biology.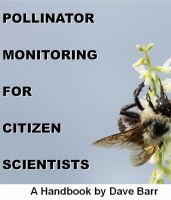 Pollinator Monitoring for Citizen Scientists: A Handbook
by

Dave Barr
Pollinating insects are in crisis. Honey bees and native pollinator species are disappearing. The efforts of citizen scientists will be required to complement the work of professional biologists if we are to find solutions. This handbook provides an illustrated guide that citizen scientists can use to monitor the activities of pollinating insects and gather data of use to pollination biologists.