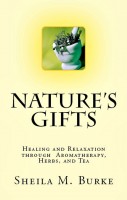 Nature's Gifts
NATURE'S GIFTS covers everything from remedies for the common cold to scents for relaxation. Included are recipes for many things using common botanicals. From body scrubs to smoothies and tea, and how to fix cracked skin. Learn all about tea, the different types, how to prepare it, and how it helps our body to heal or relax. A handy book to have around the house!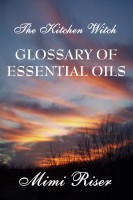 The Kitchen Witch Glossary of Essential Oils
From Babylon to classical Rome all cultures of antiquity used essential oils for healing, and modern laboratory research is confirming their value. This glossary covers 72 essential oils, plus 15 base oils, and the easiest ways to use them. It includes simple instructions, quick-reference lists and sample recipes. I hope you find it helpful and that it brings health and happiness to your life.