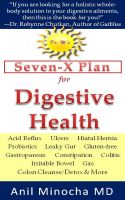 Dr. M's Seven-X Plan for Digestive Health: Acid Reflux, Ulcers, Hiatal Hernia, Probiotics, Leaky Gut, Gluten-free, Gastroparesis, Constipation, Colitis, Irritable Bowel, Gas, Colon Cleanse/Detox & More
(5.00 from 1 review)
"Dr Minocha's Seven-X Plan for Digestive Health is a valuable contribution to the field of gastroenterology. If you are looking for a holistic whole-body solution to your digestive ailments, then this is the book for you!"--Dr. Robynne Chutkan, Founder of the Digestive Center for Women. Dr. Minocha is Professor of Medicine and a practicing gastroenterologist and nutritionist.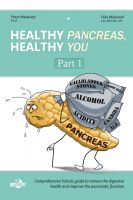 Healthy Pancreas, Healthy You. Part 1: Structure, Function, and Disorders of the Pancreas
The pancreas is a vital, mysterious organ in the human body. Millions people suffer from various digestive disorders and almost all of them have poor pancreatic function. Authors explain the connections between pancreas and dyspepsia, IBS, SOD, GERD, stones, pancreatitis, Candida, SIBO, acidosis, alcoholism. It can help focus on healing of digestive (pancreatic) diseases in their early stages.