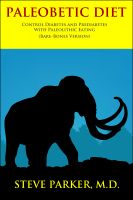 Paleobetic Diet: Control Diabetes and Prediabetes With Paleolithic Eating (Bare-Bones Version)
Steve Parker, M.D., presents the world's first paleo diet program designed for those with diabetes (types 1 and 2) and prediabetes. Included are sections on diabetes drug adjustments, exercise, hypoglycemia, treatment goals, and three days of meals. Recommended foods include vegetables, fruit, nuts and seeds, meat, fish, and eggs. All measurements are given both in U.S. customary and metric units.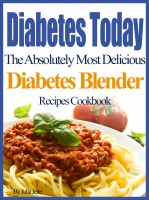 Diabetes Today The Absolutely Most Delicious Diabetes Blender Recipes Cookbook
Discover a wonderful world of delicious, nutritious, scrumptious, mouthwatering, amazingly healthy Diabetes Blender Recipes in this brand new Diabetes Today Blender Recipes Cookbook! Each Diabetes Today recipe is scientifically designed to fit in perfectly with your diabetes lifestyle and is absolutely guaranteed to be wonderfully delectable!